THE RAPPAHANNOCK COLONIAL HERITAGE SOCIETY, INC.
HISTORY & RESEARCH
---
Fredericksburg
Plan of the Town of Fredericksburg as first laid off in 50 Acres of Land by Royston & Buckner 1721.
The land along the Rappahannock River was uninhabited when this plan was first drawn by Royston and Buckner in 1721. William Livingston and his wife Susannah had leased 50 acres from Royston/Buckner and as of 1726 were operating a small farm...on Lots 27 & 28 on Amelia Street.
On March 8, 1728, a reading was made of a bill to make a town of the Lease Land site. It passed and was signed by the Governor on March 30. The Lease Land was now Fredericksburg.
The story of the founding of Fredericksburg is an interesting one and we are fortunate to have an article written by Trip Wiggins available in our archives with more of it. The snippets paraphrased above are but a taste.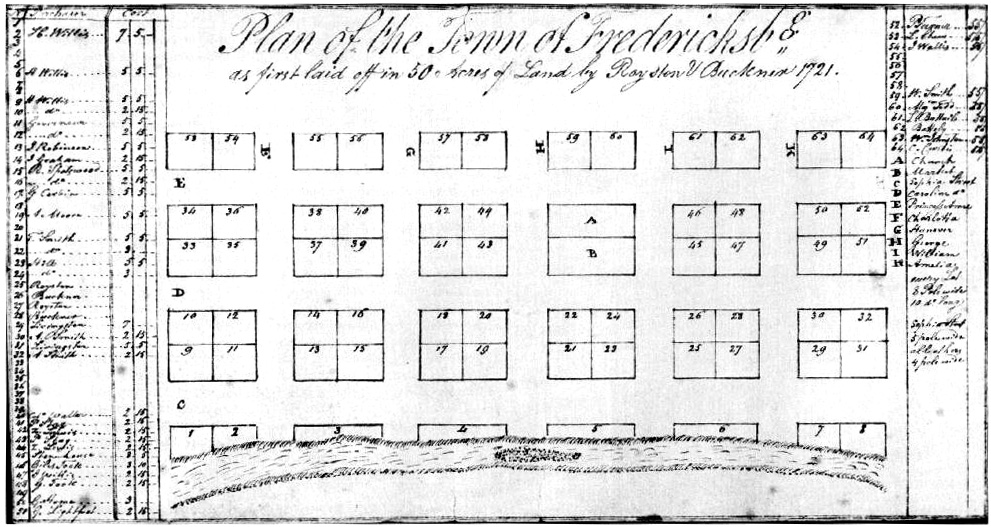 ---
Last updated on January 17, 2018.

Site Visits:

© 2018 Rappahannock Colonial Heritage Society, Inc. All rights reserved.
---